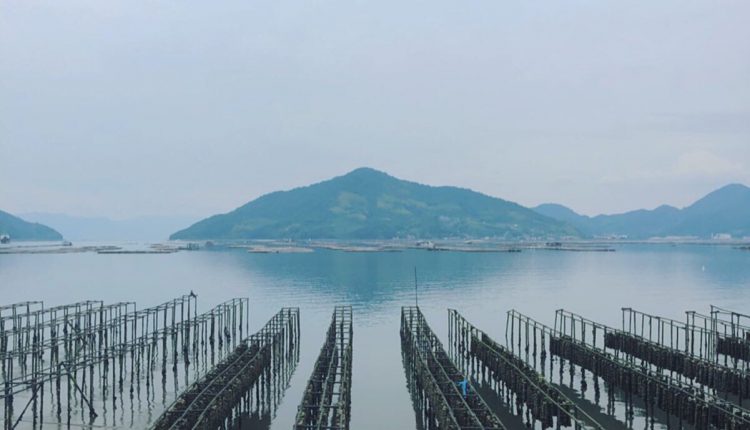 Hiroshima field trip reaction- Tzu-Yin Kao
Thinking environment through nature and culure
Due to my schedule overlapping with the main field trip from this class to Yamagata Prefecture, 5 of us including our professors and Teacher assistant went to Yokohama for our make-up field trip instead. Even though we did not get to visit the organic agriculture by ourselves in Yamagata, but the first time visiting Hiroshima with the impressions combined of history, nature and culture was just unforgettable for me. 
Our flight arrived around noon on the first day, it only took around 1.5hour on the plane to reach. The conversation we had on the plane from the "comparative case study" between Taiwan and Eastern Europe to the reconazation of history from a Japanese perspective make this 90 minutes feel even shorter.  It was cloudy and a bit of light rain when we got there and we were hoping the rain could stop at least for our afternoon canoeing activity. After having a quick lunch at the Hiroshima port, we took a ferry heading to Etajima which only take around 30 minutes. Etajima is famous with its oyster industry (which we get to observe by ourselves later) and also the Museum of Naval History which is also known as the former Naval Academy of Japan. Even though we did not get to visit the museum, by doing a bit of research of Japanese history during the Second World War and listening to Professor Yoshikawa's stories, we feel like that we are closer to Hiroshima now with the sympathy toward those University Students around our age who died for the suicide attacks during the war. We also visited the Hiroshima Peace Memorial museum and also the atomic bomb dome later in this trip located at the center of Hiroshima city. It was designated as a UNESCO World Heritage Site in 1996  where the ruin of the hall serves as a memorial to the people who were killed in the atomic bombing of Hiroshima on 6 August 1945. Even though this country just like most of the countries around the world are still dealing with its nationalism, Hiroshima, the city with sad and horify history is trying to move forward with its contribution toward Peace. A mission that relate to everyone of us to ensure no such things will ever happen again.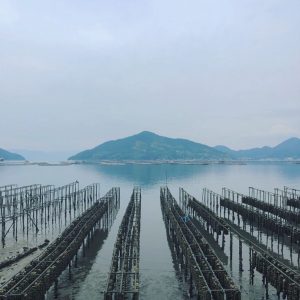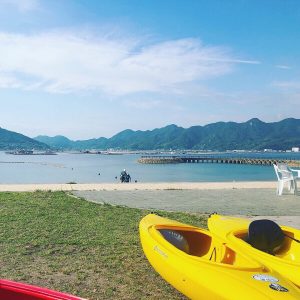 After arriving Etajima, we went to the Canoe Club straight away which is the our first activity for this field trip and started our observation by canoe for almost the whole afternoon. However, before we start our canoe trip to observe the oyster rafts, we need to have a 30 minutes practicing to ensure our safety from the beginning of how to go straight, turn and stop, even though was my second time of doingCanoeing but to be honest it was still tiring after the whole afternoon of canoeing. It was a privilege to visit the oyster rafts and observe of the plastic tubes on the ocean as close as this distance, I can feel the water on my legs and the sun shined upon my face (yea it turned sunny!). I was generally not familiar with Hiroshima and its industry before this field trip and turn out to that it produces 25,000 to 30,000 tons of oysters per year with 80% shipping to all parts of Japan and also to other countries. It was also surprising to see the environmental pollution right in front of you when the plastic tubes that they use in the oyster farming process  flow above the ocean. According to the statistic, there is more than 10,000 oyster farming rafts in Hiroshima Bay when approximately 27,000 plastic tubes (pipes) used in every floating platform, it has became one of the central contributors to plastic pollution in the water. Ironically, the Hiroshima oyster well known with its good quality and long history being as a proud of Hiroshima`sindustry now becomes a social problem and a "Shame" that affect ocean animals not only in Japan but the world since the oyster farming pipes are also found in Hawaii where is far away from Hiroshima. However, we believe there should be a way out with alternative ways that use a more environmental friendly material like Bamboo. It requires time, effort and actions from the level of government to every individual in Hiroshima and also to every one of us. 
The second activity that we do for this field trip is to visit local Hiroshima rangeland, eggs farm and factories on the second day which gave us a overall impression about the Satayama concept in the ecosystem since Hiroshima has its natural geographical benefit that surround by mountains and many small islands, rice paddies with its water resources from the Setouchi inland Sea. I was amazed to see how the company located in the countryside of Hiroshima can succeed in this large scale and  make a big impacts to the city itself along with all the opportunities that it connects between the urban and rural area. The goal that they aim to provide high quality products from the range to Japanese beef to expensive eggs that goes to high-end market around the world can also show their ambitious and the supports from the local government in order to encourage the local agriculture industry that could benefit a lot of people.    
In the end, it was just a memorable field trip that teach me a lot of things from both of the natural and cultural perspectives combined with a lot of things that we learned during this course, the possibilities and potential of how human can gift back to the nature with the continual effort from the different levels in our society. Understanding environment through culture surely is not an easy thing to do but definitely deserve our contributions and efforts for a better environment and our future generations.