A glass of wine can change the world
A glass of wine can change the world
Yes, we can change the world, if we change our daily food and drink.
You may think I'm a dreamer.
But I hope someday you will join us. 
Beau Paysage
Eishi Okamoto
グラス1杯のワインで地球が変わります。
そう、食べ方や飲み方で地球は変わるのです。
そんなの夢に話だとあなたは思うかもしれません。
でもいつかあなたも私たちと一緒に
歩き出してくれるのを願っています。
Beau Paysage
岡本英士
Eishi Okamoto is an organic wine producer.
The move toward organic is taking off in sake/wine market.
Eishi Okamoto noted "I support the movement and am glad that more alcohol producers are joining the conversation on sustainability" in the article by The Japan Times (Joe, 2014).
When we were introduced to this wine at a restaurant in Kamakura, the owner explained that "We as consumers, need to be aware of our consumption power. What we choose to buy, to eat and to drink will inevitably have impacts on our ecosystem. When we endorse a certain brand and choose to buy from it, it also means that we are acknowledging their business practice, human labor conditions and its impacts on environment". 
We all need to be conscious consumers. Before buying something, we should take a step back and think how it was made, how it was delivered to the store and its impacts on environment. And think if there's any better options in terms of environmental sustainability. 
We can change the world by being a conscious consumers.
Perhaps, it can start from a glass of wine. 
岡本英士さんはオーガニックのワイン醸造家。
お酒/ワイン市場でもオーガニックへのムーヴメントが広がっています。
岡本さんは「このムーヴメントに賛同しますし、アルコール業界がサステイナビリティの役を担えるのはすばらしいことです。」とThe Japan Times誌にコメントしています。
このワインを私たちが鎌倉のとあるレストランで紹介されました。
レストランのオーナーの方がこのワインについての説明を次のようにされていました。
「私たち消費者として、消費者の力について気を遣わなければいけません。買うもの、食するもの、そして飲むもの、それぞれ必ず地球の環境に影響しています。商品を買うという事は、その会社のビジネス理念、労働環境、環境への配慮に賛同するという事です。」
消費者としての力を意識しましょう。
購入する前に、それはどのように作られ、どのように食卓に届けられ、環境にどのような影響を与えるのかを。そしてより良い選択肢はないのか。
消費者としての力を意識する事で地球が変わります。
それはグラス1杯から始めることができますね。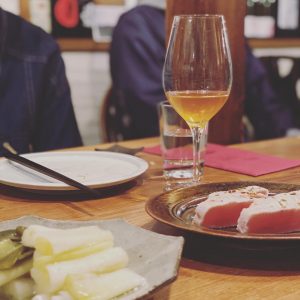 By Yushi, Wakana, Yuki, Zen
Reference:
Joe, Melinda. "Spreading the Gospel of Natural Winemaking." The Japan Times, 12 Aug. 2014, www.japantimes.co.jp/life/2014/08/12/food/spreading-gospel-natural-winemaking/#.XddmFS-RW-o.